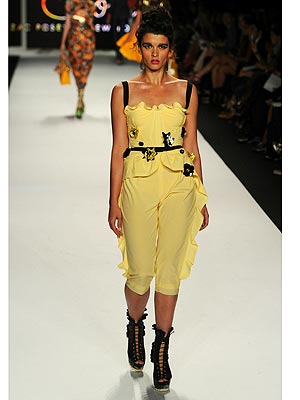 This is Crystal Renn. She is a beautiful model who is well-known around the world. I do not hold that against her. I do, however, hold the fact that she is known as "plus-sized" against her.
She is not plus-sized.
Anyone who thinks that she is plus-sized should be rudely awakened from their dreams. The media for letting people believe she is plus-sized should be
ashamed
of themselves.
Ladies and gentlemen, let me introduce you to plus-sized...
I am plus-sized. I always have been plus-sized and always will be plus-sized. Even though I am losing weight, I will still be plus-sized.
I am round and proud.
I am not trying to lose weight to be skinny. I am trying to lose weight to be healthier. Let me get that straight right now. I am not a skinny girl ready to break free from my shell. I have hips and curves that I know how to use and would be lost without them.
The fact of the matter is that
this is why there are eating disorders in this world.
Girls are being raised (by the media) that she is plus-sized. And unfortunately, in our society, there is a stigma that plus-sized equals laziness, overeating and sloth. Never do we think that there are genetics involved.
That is why I am writing this blog. To prove that plus-sized bodies deserve plus-sized (and not narrow-minded) beliefs. If I have even changed the mind of one person, I have fulfilled my purpose.
<3m